He was born as Sripathi Panditaradhyula Balasubrahmanyam into an orthodox Saivite family on June 4, 1946 in Konetammapeta in the Nellore district of Andhra Pradesh . He is the second son in a large family of three sons and five daughters. His father S. P. Sambamurthy was a well-known exponent of Harikatha and his sister S.P. Sailaja is a former actress-singer in Telugu.
When he was 21, he fell in love with the daughter of the owner of the house he was staying on rent. His parents objected to their union as the girl was of same "Gothram" (lineage), as this was prohibited in conservative Brahmin families. They eloped and got married at Simhachalam, Andhra. The name of his wife is Savithri. The early days of the couple at Chennai was very difficult and tough. The couple have two children namely Pallavi and Charan, who has a production company named Capital Film Works.
Balu took to singing as a hobby during his childhood. He developed an interest in music very early in his life, and had studied notations and learnt to play instruments such as harmonium and flute on his own while listening to his father. His father wished that Balu should become an engineer which brought him to Madras, where he enrolled for the AMIE course. Meanwhile, he also pursued his hobby and won awards at many singing competitions.
 Entry into Playback Singing
In 1964, a Madras-based Telugu Cultural Organisation, organised a music competition for amateur singers. Balu won the first prize, and that proved a turning point in his life. Music director SP Kodandapani took him under his wing. Then offers poured in from Telugu, Tamil, Kannada and Malayalam movies.
Before he became a full fledged cinema singer, Balu was the leader of a light music troupe that comprising ..Anirutta, who was working in Corporation and was the harmonium artist Ilaiyaraaja who joined the group as Guitarist and then moved over to harmonium after Anirutta became busy in his regular job Baskar, Ilaiyaraaja's brother who was in charge of Percussion Gangai Amaran another brother of Ilaiyaraaja who was the Guitarist after Ilaiyaraaja moved over to Harmonium
Balasubrahmanyam made his debut in film music as a singer in 1966 with Sri Sri Sri Maryada Ramanna, a film scored by his mentor Kodandapani. He has sung more than 39,000 songssince in more than 5 different Indian languages including Telugu, Tamil,Kannada, Hindi and Malayalam. However, he has sung most of his songs in Telugu. He holds the Guinness record for having sung the most number of song recordings by any single male singer (the corresponding record for a female singer is held by Lata Mangeshkar).
A gifted singer, he is highly regarded for his incredible vocal range, deep rich voice, and mastery of style, technique and control. These qualities allowed him expression across various genres of Indian music, and he has been highly sought after by many of India's film music composers. His approach to singing is methodical; he perseveres to understand the full meaning of the songs that he sings (many of which are very poetic) and the settings in which these songs are couched in order to most effectively match their requirements with his vocal delivery.
SPB is fairly well-versed in the Hindi language, though many times criticized for his bad pronunciation, and has also sung in various other less familiar languages such as Bengali, Tulu and Oriya. He feels that vocal gimmickry cannot mask incorrect accents, and while he concedes that his accent and diction in Hindi are not perfect, insists that accent is secondary to singing within the context of the proper emotions required of the lyrics and moods. He welcomes modern technology in music making as it enhances both speed and results.
He has performed both the popular and classical music of India. For example, the songs he performed in the films Sankarabharanam, Sagara Sangamam, Rudra Veena were based on Carnatic classical music, and the song Umandu Ghumandu in the movie Ganayogi Panchakshari Gavayi was based on Hindustani classical music.
SPB virtually monopolised playback singing for more than 30 years in the Telugu, Kannada and Tamil cinema. He hosts a popular TV show called Paadutha Theeyaga on E-TV, Paadalani Undi on MAA-TV ,Ede Thumbi Haaduvenu on 'E-TV Kannada' and 'Ennodo Paattu Paadungal' on JAYA-TV.
Titles
1999 Doctorate from Pottisreeramulu University (A.P). Presented by Governor Rangarajan.
2001 Padma Sri Award from the President of India K.R. Narayanan..
National awards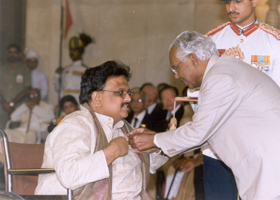 1979 Sankarabharanam - Telugu
1981 Ek Duje Ke Liye - Hindi
1983 Sagara Sangamam - Telugu
1988 Rudraveena - Telugu
1995 Ganayogi Panchakshari Gavayi - Kannada
1996 Minsaara Kanavu - Tamil
State awards
The Kalaimamani by Tamil Nadu Government in 1981
Andhra Pradesh Government Nandi Award for Best Male Playback Singer - received 18 times.
Tamil Nadu Government Award - received 3 times
Film Fans' Association (Madras) Award (oldest association in the country) - received 20 times
Other awards
September 1, 2002 Life time Achievement Award "Play back King", conferred during TVS Victor Aalaapana Music Awards function for the years 2001 & 2002, at Hyderabad
August 5, 2002 "Dr. Bezawada Gopala Reddy Award", given during a function in Nellore
April 7, 2002 Delhi Telugu Academy's 'Rashtriya Vikas Shiromani Award (Life time)' in 2002 on the occasion of 'Ugadi 2002', held in New Delhi
2002 Swaralaya-Kairali-Yesudas award
2001 Sangeeta Ganga award
1990 Film Fare Award for the film 'Maine Pyar Kiya'
2006 Raja-Lakshmi Award from Sri Raja-Lakshmi Foundation, Chennai
2006 Best Playback Singer from Vijay TV, Reliance Mobile Vijay awards
Mia Tansen Award Sur Singar Sanjad (Bombay) for best classical rendition of a song from 'Tere Payal Mere Geeth' composed by Naushad Sab
Innumerable Awards from Magazines & Associations fostering films
His world Records
Has recorded over 39,000 plus songs in a span of 40 years, which include film songs and devotional numbers recorded by various recording companies of the country. It's a world record which will be soon entering into the Guinness Book of World Records.
Has recorded 21 songs in Kannada for the composer Upendra Kumar in Bangalore from 9.00 a.m. to 9.00 p.m. on February 8, 1981 which is a record.
Has recorded 19 songs in Tamil in a day, and 16 songs in Hindi in a day, which is a notable achievement

As Dubbing Artiste 
He has also given voice for various artists like Kamal Haasan, Bhagyaraj, Mohan, Girish Karnad, Gemini Ganesh, Nagesh, Karthik, Raghuvaran, Vinodkumar etc.
  As an Actor
He has been acting for over twenty years as a support artist in a wide range of roles like
A doctor in Manathil Uruthi Vendum and Avvai Shanmugi
CBI Officer in Thiruda thiruda
Police Officer in Guna
A father in Kadhalan, Mangalyam Tantu naanena,Ratchagan, Kadhal Desam and Minsara Kanavu
guest role as his real life character in indra (Telugu)
He was the hero of the following movies:
Widower and father - Keladi Kanmani (Tamil)
Music director - Sigaram (Tamil)
As a hero in " Paatu Paadavaa" (Tamil)
Ramayya in "muddina maava" (kannada)
Retd. Army Captain in kalyanotsava (kannada)
He has also acted in two serials in Tamil
Nadhi Enge Pogiradhu (which also had actress Roja)
Jannal(also had actress Lakshmi)
As a Music Director
He was the music director of the Kannada movies like Ksheera Saagara (ಕ್ಷೀರ ಸಾಗರ), Muddina Maava (ಮುದ್ದಿನ ಮಾವ), Tamil movies like Thudikkum karangal(துடிக்கும் கரங்கள்), Sikaram (சிகரம்) (శిఖరం)and unnai charanadaindhen (உன்னைச் சரணடைந்தேன்)and Telugu films such as Padamati Sandhya Ragam (పడమటి సంధ్యారాగం), Mayuri(మయూరి) (featuring Sudha Chandran), Jaitrayatra (జైత్రయాత్ర) and others.

As Owner of Recording Studio

Besides playback singing, Balasubramaniam is also the chairman of Kodandapani Audio Labs, Chennai.

Besides all his other talents he has also produced several movies in Telugu as well as Tamil.

For more information please visit  http://www.spbala.com/